Artikelnummer: SKU:LAM3GN
Regular price
Sale price
€139,90
Unit price
per
Sale
Sold out
View full details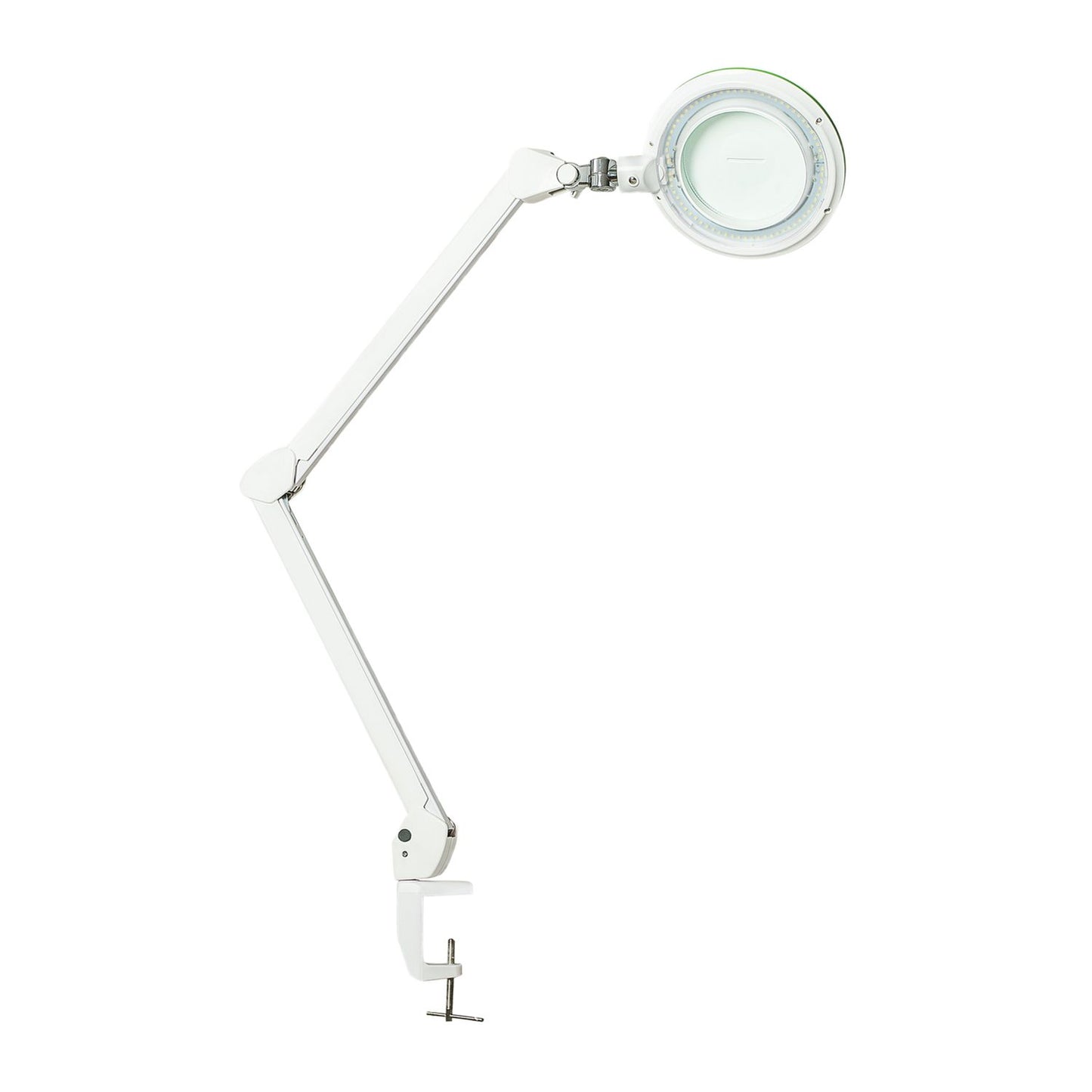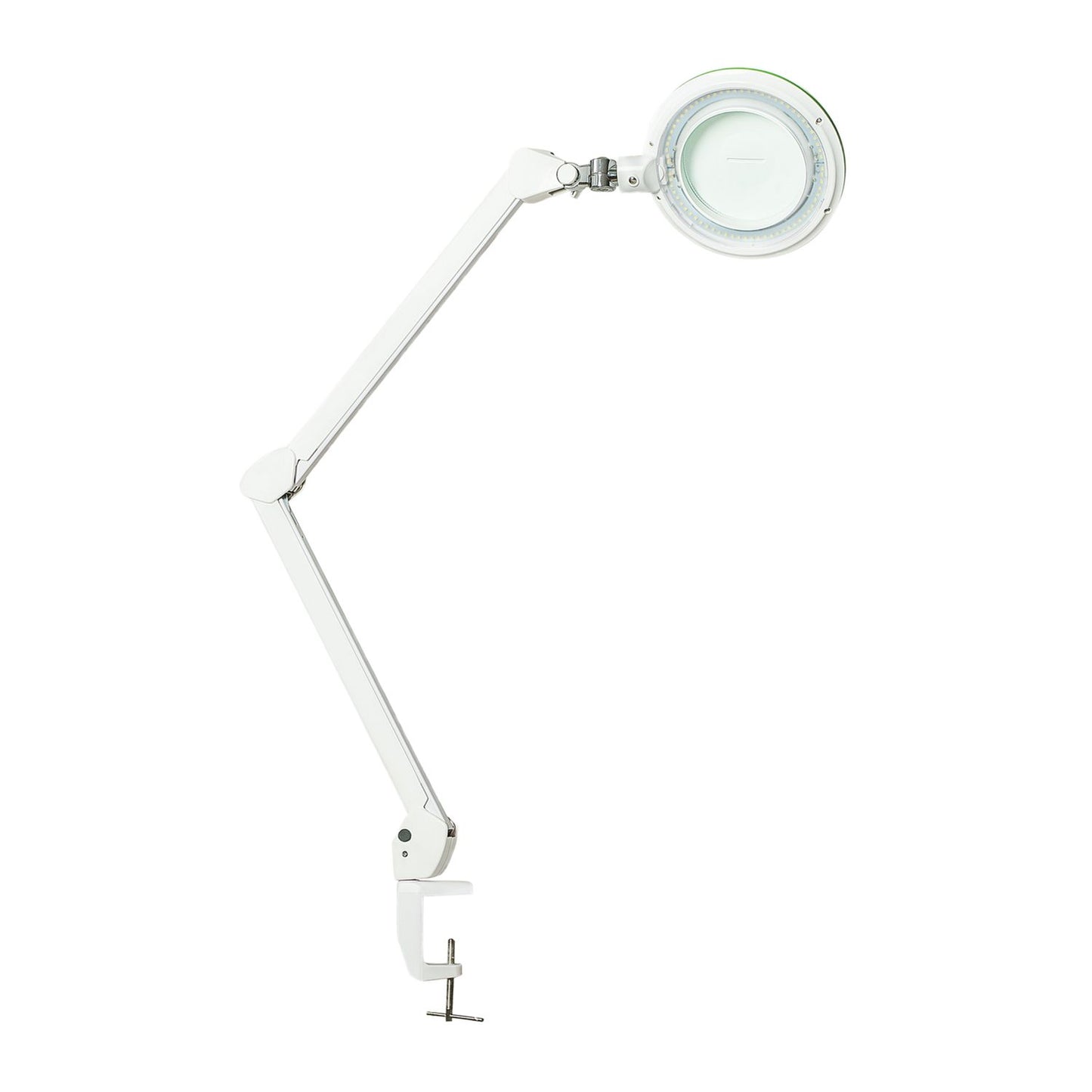 zalias Lambda M LED magnifier lamp dimmable in 3 steps with 127 mm glass lens, various designs.

The magnifying lamps of the Lambda M series are available in different versions:
- Lambda M with 3 diopters (1.75x magnification)
- Lambda M with 5 diopters (2.25x magnification)

This model of magnifying lamp is ideal for all work that requires precision and good light - whether in the hobby area for handicrafts or for professional use, e.g. in cosmetics. The elegant and simple design of the magnifying lamp is complemented by a coloured ring on the lamp head and makes the magnifying lamp an equally attractive and practical helper.
The SMD LEDs are mounted in a circle around the lens and provide even illumination of the working area. Switching on and off is done via a touch sensor. This is mounted on the top of the lamp head, so the lamp can also be operated when the cover is closed. The brightness is also regulated via the touch sensor by touching it again. The brightness can be adjusted in 3 steps.

The position of the magnifying lamp can be individually adjusted to your requirements and work situation. Thanks to the balanced arm mechanism, the magnifying lamp offers a large working radius and can be easily moved into position without the risk of pinching fingers. The lamp head can be swivelled in a horizontal direction and rotated through 340°. In addition, the lamp head can be tilted vertically by loosening the fixing screw and fixed again by tightening the fixing screw at the desired position.

The lens cover is completely removable and can be conveniently put aside when working with the magnifying lamp. When the magnifier is not in use, the cover protects against dirt and sunlight (danger of burning glass effect).

The replacement of a damaged lens can be carried out quite easily and without tools in just a few steps.
We recommend replacing the lens only with an original lens in the appropriate magnification, as the arm springs are optimised for the weight of the lens.

The magnifying lamp can be mounted on a table or worktop with a thickness of 15 to 63 mm using the table clamp (included in delivery).

Scope of delivery: Magnifying lamp Lambda M, table clamp, power supply unit, operating instructions.

Specifications
| | |
| --- | --- |
| Magnification | |
| Housing color | white |
| Color protective edge | green |
| Brightness | max. 910 Lumen |
| Illuminant | 70 SMD LED |
| Power | 12 Watt (12 kWh / 1000 h) |
| Current consumption | |
| Standby consumption | 0.3 W |
| Energieeffizienzklasse | F |
| Light color | similar to daylight |
| Color temperature | 6500 K |
| Color rendering index (CRI) | > 80 Ra |
| LED lifetime | up to 20,000 hours |
| Lens | Crystal clear optical lens |
| Working radius (distance from lens center to lower joint) | 1050 mm |
| Length of the upper arm segment | 400 mm |
| Lower arm segment length | 400 mm |
| Magnifiers diameter | 127 mm |
| Dimensions lamp head | (LxWxH) 200 x 200 x 26 mm |
| Cable length | 150 cm |
| Scope of delivery | Magnifying lamp Lambda M, table clamp, power supply, operating instructions |
| Manufacturer WEEE No. | DE20114722 |